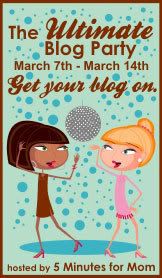 (This is a sticky post, new posts will be posted below)
I cannot believe it is time for the Ultimate Blog Party again. Whoo-Hoo!
I joined the Party late last year, so this year I wanted to make sure I arrived early.
Put on your party hats- it's going to be a fun-filled week!
So, a bit about me....
Let's start with the more obvious- I'm a 29 year old wife, daughter, sister, friend and soon to be mommy. (We are expecting our first daughter around June 2). I live in St. Louis, MO. I'm a girl (yes, I still think of myself as a girl- is that strange?) who loves to read, cook, watch movies, buy shoes, and sing loudly in her car. I love God and am striving to grow closer to Him every day.
Hope you'll leave a comment so I can visit your blog and learn a little about you too! Can't wait to meet new bloggin' friends!
Happy Ultimate Blog Party!